September 11, 2001
08:24:38 --- the following transmission came from American Airlines Flight 11:
AA 11:
We have some planes. Just stay quiet, and you'll be okay. We are returning to the airport.
The controller only heard something unintelligible; he did not hear the specific words "we have some planes."
The next transmission came seconds later:
AA 11:
Nobody move. Everything will be okay. If you try to make any moves, you'll endanger yourself and the airplane. Just stay quiet.
08:37:52 --- Boston Center reaches NORAD's Northeast Air Defense Sector and notifies of possible hijack of American Airlines Flight 11
08:46 --- F-15 fighters are scrambled from Otis Air Force Base.
08:46:40 --- Hijacked AA 11 flies into the upper portion of the North Tower, cutting through floors 93 to 99. Eighty-one passengers and eleven crew are killed.
08:55 --- Before entering the classroom at E. Booker Elementary School, Bush spoke to National Security Advisor Condoleezza Rice, who was at the White House.
There was no live coverage of the first attack on the Twin Towers. Rice recalled first telling the President it was a twin-engine aircraft-and then a commercial aircraft-that had struck the World Trade Center, adding "that's all we know right now, Mr. President.
09:00 --- FAA and airline officials began to comprehend that attackers were going after multiple aircraft.
Cheney said he was wondering "how the hell could a plane hit the World Trade Center" when he saw the second aircraft strike the South Tower on CNN.
09:03:11 --- Hijacked United Airlines Flight 175 hit 2 WTC (the South Tower) from the south, crashing through the 77th to 85th floors. Fifty-six passengers and nine crew members are killed.
Bush was watching a reading drill when, just after 9 a.m., United Flight 175 exploded into the second tower. [60 Minutes II]
09:05 --- Chief of Staff Andrew Card whispers to Bush: "A second plane hit the second tower. America is under attack."
09:05 and 9:10 --- American Airlines' nationwide ground stop was followed by a United Airlines ground stop. FAA controllers at Boston Center, which had tracked the first two hijackings, requested at 9:07 that Herndon Command Center "get messages to airborne aircraft to increase security for the cockpit."
When they learned a second plane had struck the World Trade Center, nearly everyone in the White House [said], they immediately knew it was not an accident. The Secret Service initiated a number of security enhancements around the White House complex.
09:05 to 09:10/09:12 --- The President remains in the classroom for another five to seven minutes, while the children continued reading. He then returned to a holding room shortly before 09:15.
09:17 --- The Federal Aviation Administration shuts down all New York City area airports. [CNN]
09:21 --- The Port Authority of New York and New Jersey orders all bridges and tunnels in the New York area closed. [CNN}
09:30 --- President Bush, speaking in Sarasota, Florida, says the country has suffered an "apparent terrorist attack." [CNN/Salon]
09:34 --- NORAD's Northeast Air Defense Sector is notified that American Airlines Flight 77 was lost. Then, minutes later, NEADS was told that an unknown plane was 6 miles southwest of the White House. Only then did the already scrambled airplanes start moving directly toward Washington, D.C.
09:37 --- The west wall of the Pentagon is hit by hijacked American Airlines Flight 77. Fifty-eight passengers and six crew were killed.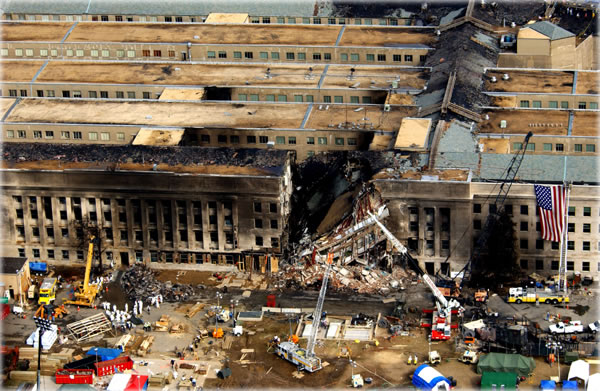 09:40 --- The FAA halts all flight operations at U.S. airports, the first time in U.S. history that air traffic nationwide has been halted. [CNN]
09:45 --- The White House evacuates. [CNN]
09:57 --- The passenger assault begins on United Flight 93. Several passengers had terminated phone calls with loved ones in order to join the revolt. One of the callers ended her message as follows:
"Everyone's running up to first class. I've got to go. Bye."
09:57 --- Air Force One thundered down the runway, blasting smoke and dust in a full-thrust take off. [ 60 Minutes II]
09:58:59 --- the South Tower collapses in ten seconds.
10:02:23 --- The United 93 passengers continued their assault, a hijacker is heard saying, "Pull it down! Pull it down!" (meaning to crash the plane into the ground)
10:03:11 --- Flight 93 crashes in field in Shanksville, PA. Thirty-seven passengers and seven crew are killed.
10:18 --- The Vice President was logged calling the President for a two-minute conversation that obtained the confirmation. On Air Force One, the President's press secretary was taking notes; Ari Fleischer recorded that at 10:20, the President told him that he had authorized a shootdown of aircraft if necessary, [*Although documentary evidence of this is dicey]
10:28:25 --- The North Tower collapses.
2,603 people were killed in New York City in the planes, towers and on the ground. 125 people were killed at the Pentagon. As many as 200 more people may have died due to exposure to toxins created by the Twine Tower debris.
[All information culled from the 911 Commission unless otherwise noted.]